Tripawds is a user-supported community. Thank you for your support!
The Beginning: 
When Athena was 8 weeks old she somehow broke her right femur. Her owners at the time took her to a low cost veterinary clinic. The vet told the owners that the fracture would heal on it's own. After 2 months the leg did not heal properly so the owners took her back to the low cost clinic. At that visit the vet told the owners they needed to go to a specialist. The owners could not afford a specialist visit so they dropped Athena off at a shelter. When Athena arrived she was having lots of trouble walking and her leg was very deformed. Thankfully the wonderful vet at the shelter worked hard and spent lots of her own money to get Athena the care she needed.
The Leg:
Athena's leg was broken at her femur growth plate. When growth plates are broken they need special care to make sure the limb grows and forms properly. Because Athena's legs was left to heal on it's own the growth plate closed causing her femur to stop growing at one end. This also caused thickening of the femur. So for Athena her femur stopped growing longer and started to get thicker while the rest of her leg tried to grow properly. This caused her a lot of pain and made it very hard for her to walk. The only option when she got to the shelter was to remove her leg or put her down. So at 4 months old Athena was given the ability to walk for the first time in 2 months.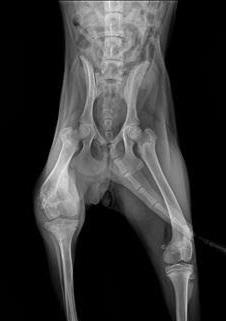 The Friendship:
As soon as I adopted Athena we have been together ever since. Athena comes to work with me everyday. She loves to play with all the other dogs at work. She gets so much love from all my coworker. When we are not at work Athena loves to chew on EVERYTHING so I follow her around correcting her bad habits since she is still young. She also loves to cuddle and talk. Athena also loves to watch the birds and rabbits outside. She is such a wonderful dog. We will always be furever friends!